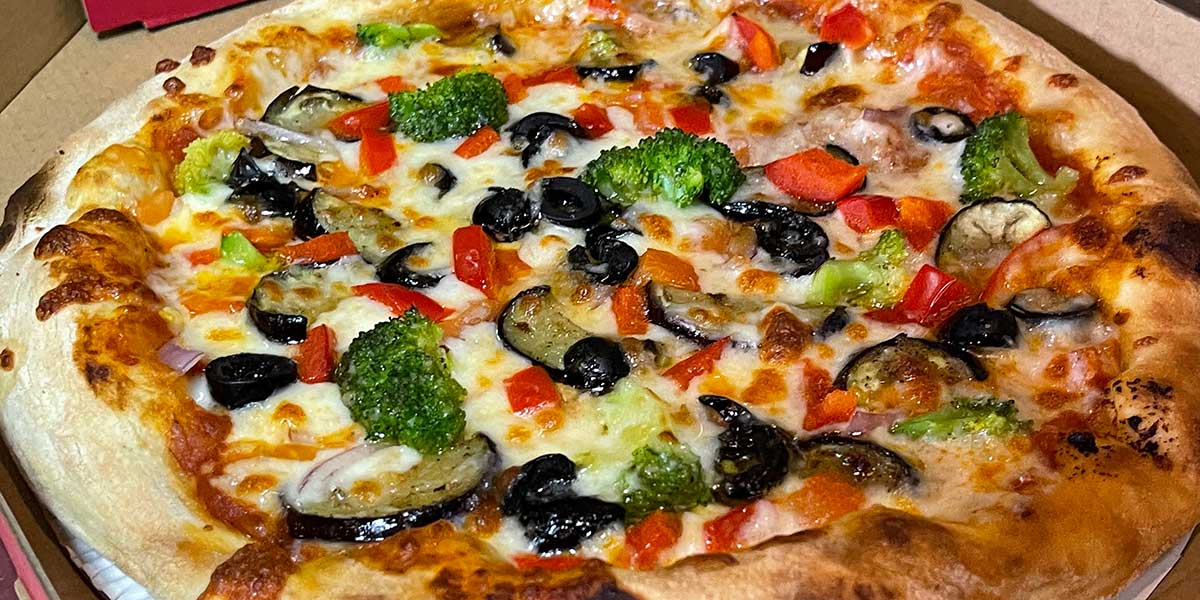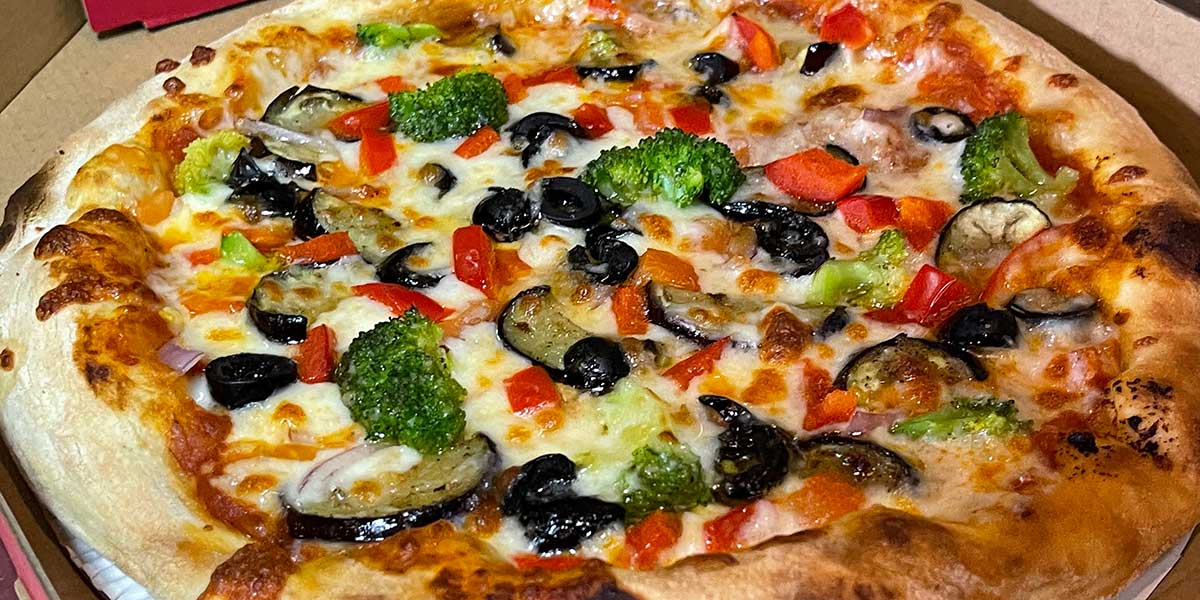 Buy One Get One FREE
| | | | |
| --- | --- | --- | --- |
| | Buy one Burger get another FREE | | |
| | Buy one wrap get another FREE | | |
| | Buy one 10" pizza get another one FREE | | |
| | Buy one 12" pizza get another one FREE | | |
Promotions
| | | | |
| --- | --- | --- | --- |
| | 10" pizza, 6 Cheese balls, 5 Nuggets, French fries and a soft drink. | | |
| | 12 inch Pizza with 6 Chicken Wings and Fries | | |
| | 12" Pizza, ciabatta & fries, roasted vegetables salad and a drink | | |
| | 12" Pizza - wrap and fries, roasted vegetables salad and drink | | |
| | 12" Pizza - Roasted chicken & veg, Humus brd, Roasted veg salad | | |
| | 12 inch Pizza, Burger, Chicken Wings With Roasted Vegetables Salad and a Drink | | |
| | A 12 Inch Authentic, Hand-crafted, Artisan Pizza (8 Slices) with Juicy Chicken Wings, A Tasty Burger, Mediterranean Wrap and Large 1.25 liter of Cola | | |
| | Two 12" inch Pizzas and 12 wings | | |
| | Two 12" Pizzas, 12 roasted BBQ wings, 6 crispy chicken tenders, French fries 250 grams, 4 Royal signature dips and bottle of Coca-Cola 1.25ltr | | |
| | 10 inch pizza , 12 inch pizza half & half, Wrap of your choice, Burger of your choice, Appetizer of your choice, Green Salad & 1.25 ltr Cola | | |
Pizza of the Month
| | | | |
| --- | --- | --- | --- |
| | Tomato Sauce, Mozzarella Cheese, Onion, Roasted Broccoli, Roasted (Eggplant, Zucchini, Bell Pepper, Cherry Tomato, Black Olives) | | |
Pizzas
| | | | |
| --- | --- | --- | --- |
| | | | |
| | | | |
| | Tomato Sauce, Cheddar Cheese, Mozzarella Cheese and Olive Oil on Top | | |
| | Tomato Sauce, Smoked Ham, Fresh Pineapple and Mozzarella Cheese Pizza. | | |
| | Tomato Sauce, Fresh Tomato Slices, Fresh Mushroom, Onion, Black Olives and Mozzarella Cheese. | | |
| | Tomato sauce, Corn, tomato, belle pepper, Black olive | | |
| | Tomato sauce, chicken ham, Pineapple, belle pepper and Mozzarella Cheese | | |
| | Tomato Sauce, Smoked Ham, Smoked Bacon, Fresh Mushroom, Onion, Black Olives and Cheese. | | |
| | Carbonara Sauce, Red Chili, Pesto Paste, Extra Virgin Olive Oil, Black Olives | | |
| | Tomato sauce, mozzarella, chilies, roasted cherry tomatoes, tex mex chicken strips, original nachos, spring onions and Bbq sauce | | |
| | Grilled BBQ Chicken Breast, Tomato Sauce, Fresh Mushroom, Onion, BBQ Sauce and Cheese. | | |
| | Tomato sauce, smoked ham, salami, black olives | | |
| | Tomato sauce, mozzarella, cherry tomato, capsicum, red onion, black olives, mixed rocket, Feta cheese with a touch of extra virgin olive oil on top. | | |
| | Carbonara Mushroom Sauce, Fresh Champignons. BBQ Bacon, and Mozzarella Cheese | | |
| | Tomato Sauce, Mozzarella Cheese, Onion, Roasted Broccoli, Roasted (Eggplant, Zucchini, Bell Pepper, Cherry Tomato, Black Olives) | | |
| | Tomato Sauce, Pepperoni, Fresh Mushrooms and Cheese. | | |
| | Tomato Sauce, Mozzarella Cheese, Parma Ham and rocket salad | | |
| | Garlic Pesto cream, grilled chicken breast, fresh mushroom and mozzarella cheese | | |
| | Tomato Sauce, American Pepperoni double and Mozzarella cheese | | |
| | Tomato sauce, oregano, Mozzarella cheese, spicy salami, Nuernburger sausages, mixed olives | | |
| | Tomato Sauce, Mozzarella Cheese, Paris Ham, Fresh Mushroom & extra Virgin olive Oil | | |
| | Tomato Sauce, Smoked Ham, Smoked Bacon, Pepperoni, German Sausage, Fresh Mushroom, Onion, Black Olives and Cheese. | | |
| | Tomato sauce, fresh mushroom, pineapple, bell peppers, imitation crab, shrimp and mixed mozzarella cheese | | |
| | Tomato sauce, Mozzarella, Onion, Capsicum, Signature Shawarma Lamb, Parsley & cherry tomato | | |
| | Tomato sauce, onion, diced tomatoes, meatballs, mozzarella cheese and chopped parsley | | |
Burgers
| | | | |
| --- | --- | --- | --- |
| | Combo set includes French Fries and 1 Soft Drink | | |
| | Combo set includes French Fries and 1 Soft Drink | | |
| | Combo set includes French Fries and 1 Soft Drink | | |
| | Combo set includes French Fries and 1 Soft Drink | | |
Ciabattas
| | | | |
| --- | --- | --- | --- |
| | Freshly Baked Ciabatta, Lettuce, Mayo, Grilled Chicken with Pesto and Cheese | | |
| | Freshly Baked Ciabatta, Lettuce, Tomato, Onion, Fetta Cheese, Black Olives and Olive Oil, Oregano | | |
| | Freshly Baked Ciabatta, Ham, Pepperoni, Cheese, Mayonnaise, Tomato, Lettuce and Red Oak Onion | | |
| | Freshly Baked Ciabatta, Lettuce, Meat Balls, Tomato, Onion and Cheese | | |
Wraps
| | | | |
| --- | --- | --- | --- |
| | Marinated Chicken Breast Grilled wrapped with Lettuce, Tomato, Onion and Garlic Mayo Sauce | | |
| | Deep Fried Chicken Fillet wrapped with Lettuce, Tomato, Onion and Cocktail Sauce | | |
| | Mixture of Cheddar and Mozzarella Cheese wrapped with Lettuce, Tomato, Pickles, Corn and Mustard Mayo Sauce | | |
| | Hummus, Lettuce, Tomato, Black Olives and Extra Virgin Olive Oil | | |
| | Fried Chickpeas Balls wrapped with Tomato, Parsley, Onion, Pickles and Tahina Sauce | | |
| | | | |
| | 2 skewers of grilled chicken breast, garlic sauce, coleslaw salad, French fries and ketchup, wrapped in our freshly baked pita bread. | | |
| | Marinated Minced Beef Baked on a Bread with Lettuce, Tomato, Onion and Mustard Mayo Sauce | | |
| | Marinated Beef Kafta Kebab, Rolled In Our Home-Made Pitta Bread With Hummus, Parsley, Roasted Onion And Tomato | | |
Salads
| | | | |
| --- | --- | --- | --- |
| | | | |
| | | | |
| | | | |
| | Mixed lettuce, cherry tomato, cucumber, capsicum, black olives, onion and Feta cheese | | |
Appetizers
| | | | |
| --- | --- | --- | --- |
| | | | |
| | Crispy Breaded Mozzarella Cheese balls with a choice of dip | | |
| | | | |
| | | | |
| | Traditional chickpeas and tahini purée with olive oil dressing and freshly baked pitta bread. | | |
| | Slow roasted chicken leg quarters with assorted roasted vegetables and a garlic dip. | | |
| | Traditional chickpeas and tahini purée with olive oil dressing and freshly baked pita bread. With ground beef or grilled chicken. | | |
Dips
| | | | |
| --- | --- | --- | --- |
| | | | |
| | | | |
| | | | |
| | | | |
| | | | |
| | | | |
| | | | |
Drinks
| | | | |
| --- | --- | --- | --- |
| | | | |
| | | | |
| | | | |
| | | | |
| | | | |
| | | | |
Product Categories
Looking for Bangkok pizza delivery?
We deliver from nine locations in and around Bangkok. We cover the majority of Bangkok so you should find one of our pizza restaurants near you.
Royal Pizza's first pizza restaurant started in Yan Nawa, Chong Non Si several years ago and has expanded with locations in Bang Na, Lat Phrao, Din Daeng, Ramkhamhaeng and Metro West Town.
We serve a range of Mediterranean style pizzas and wraps as well as burgers and appetizers.
We know you'll love our range of authentic, hand-crafted, artisan pizzas and hope you think it's the best pizza in Bangkok.

Be sure to check out our special pizza promotions.